Deadlands DLC release: November 1st for PC, November 15th for Console.
The Gates of Oblivion story reaches its climatic finale in The Deadlands DLC for ESO (Elder Scrolls Online). The way to Mehrunes Dagon's realm has been opened and his legions of Daedra and cultists prepare to unleash a series of new and terrifying Daedric inventions on the lands of Tamriel. The call now sounds for heroes to thwart these schemes.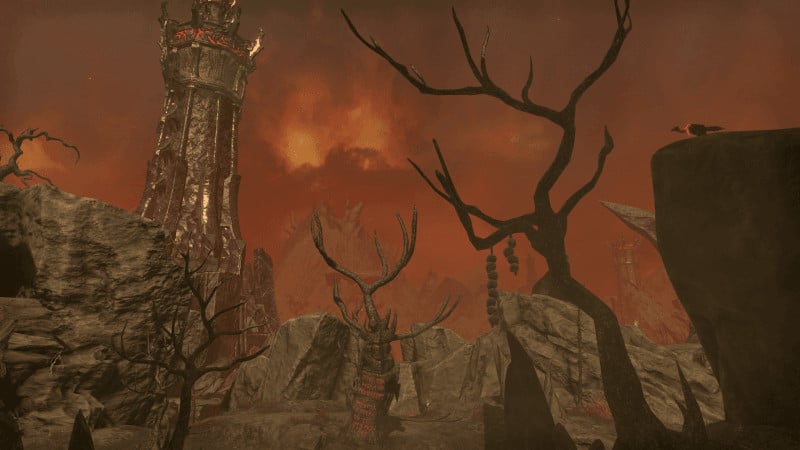 In addition to the burning and scoured fields of Mehrunes Dagon's domain, The ESO Deadlands DLC also invites you to visit Fargrave, a mysterious city shrouded in the corners of Oblivion. Here, "friendly" Daedra and mortals inhabit a metropolis unlike any other. But despite the tentative peace, tensions lurk beneath the city … tensions that Mehrunes Dagon is eager to exploit for his own gain.

The Deadlands DLC introduces several new item sets, collectibles, outfit styles, achievements, titles and more!

The base game introduces some exciting new features including the new Armory system – which allows you to save out character builds – curated item set drops to help better ensure you get items that are not yet unlocked, new Mythic items, NVIDIA DLSS & DLAA Support, and more! Be sure to check out all the details below. There are also a number of changes affecting combat and itemization including some adjustments to proc sets and critical hit damage, plus allowing sets to now grant hybrid stats. For a full summary of the changes affecting combat, please see this forum post.

You can read more about all the new features in detail at the bottom of the page.
Zones within Deadlands:
Deadlands added 163 furniture pieces to the game. Click here to view them!