Antiquities Overview Page
You will find the new category "Antiquities" in your quest journal. The Antiquities system also has two new skill lines called Scrying and Excavation. Both of these will make it easier for you to successfully scry and excavate Antiquities.
Now lets take a closer look at the Quest Journal Antiquities section.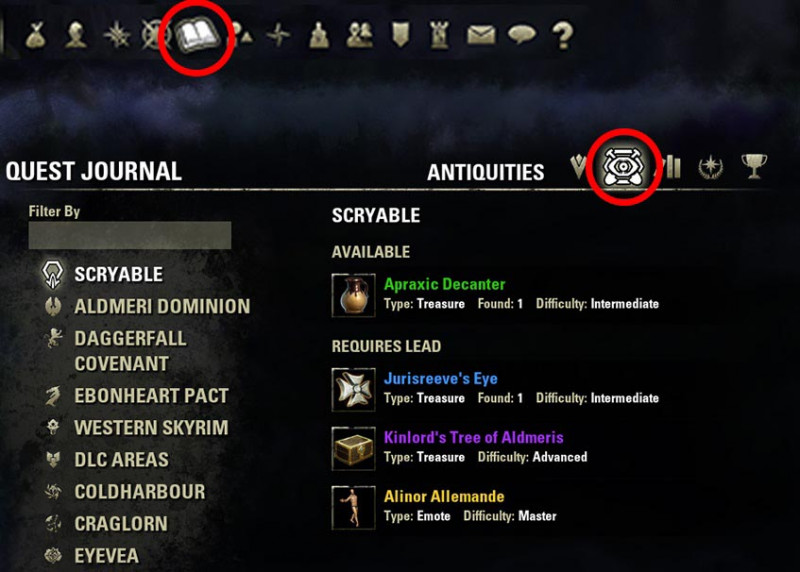 Scryable
Scryable refers to what you can currently scry in the respective region that you are in. If you pressed "scry" on one of these 4 items in the picture above you would open up the scrying window that we are going to take a look at in the
scrying section
. All scrying tasks are started in the quest journal Antiquities overview page.
Other Tabs
After the scryable section you see a lot of zone and dlc names. All of them will show you the
leads
that you already have and could scry and excavate once you travel to that specific zone.
Leads
Leads are needed to be able to scry and excavate a certain item. Leads drop from all kind of things, you can find a full list
here
. Depending on how far you are already leveled up, you can scry different quality leads.
Green = Simple Difficulty
Blue = Intermediate Difficulty
Purple = Advanced Difficulty
Gold = Master Difficulty
Orange = Ultimate Difficulty
In the next part of the guide we are going to take a look at the skill lines.
Video Guide
You can also find an in depth video about the Antiquities System here if you prefer to watch.