Today we are going to take a look at some of the new features on
ESO-Hub.com
related to the new Champion Points System 2.0. You can find the following new content on ESO-Hub:
Wordpress Plugin:
The
ESO-Hub Wordpress plugin
can now also display Perks from the Champion Points system in addition to sets and skills. You can look at an example here on the
Magicka Grind Build
Champion Points allocation.
Champion Points Overview Page
On Desktop you can now find the Champion Points overview page in the secondary menu. On mobile you can access the perks via the main menu Combat & Gear.
The Calculator Champion Points
The
Champion Points calculator
is our prime tool where you can assign and test out Champion Point allocations. You can also use the arrow button on the top right side to
save and share
your Champion Point allocations with your friends. The calculator is currently available in
English
,
German
and
French
. We are also working on additional features such as a mobile version and presets for certain specs.
Beginner Guide for the Champion Point System 2.0
You can also find a full
Beginners Guide
for the Champion Points System, which explains all the basics and also has a full list of all experience needed to reach certain amounts of points.
Disciplines, Clusters and Perks in the Champion Points System
You can find a total of three main trees called "Disciplines":
Craft
,
Warfare
and the
Fitness
. The Warfare Tree also has two subtree "Clusters" called
Extended Might
and
Staving Death
.
By entering one of the pages you will get access to a full list of all the perks, for example here in the
Craft page
.
Each perk then also has its individual page with more information about the Champion Point Perk. Here we are looking at the [Gilded Fingers] perk.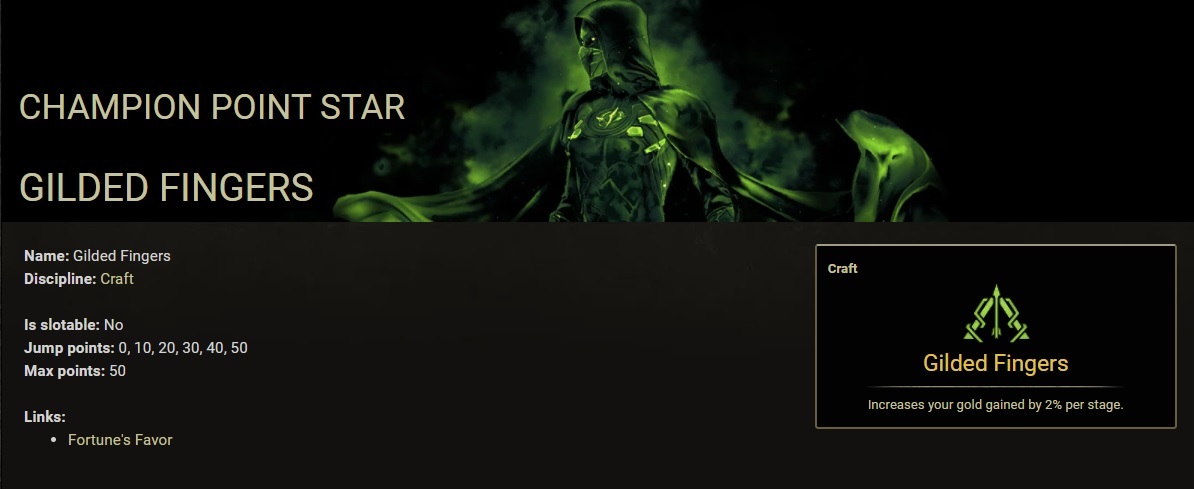 Feedback
Please leave feedback in our
community discord server
in the Project Feedback section in the channel #eso-hub.