Welcome to the Tribunal Preacher Achievement Guide in ESO. Here we will explain you how to get this achievement and where to find all 36 lessons of Vivec. In total there's 37 sermons, but only the first 36 count towards the achievement.

Tribunal Preacher is awarded for finding and reading all 36 Sermons of Vivic, found across Vvardenfell. A lot of these require trespassing/breaking in. Once you have done this achievement, you can buy all 36 books as furnishing items from Drops-No-Glass in Vivec City.


The Tribunal Preacher Achievement takes us through Vvardenfell and teaches us about ALMSIVI's life, the Tribunal of Morrowind. It is the god-king's autobiography, a fabricated story, a description of godhood and how to become a god. It is a holy scripture, worshipped by the elves of Morrowind and recited in prayers. It's Vivec's own account of their strange birth, life and ascension to godhood. They contain his wisdom and philosophies, talking about the Nerevarine, the rebirth of his first saint Nerevar, also called the Hortator.
Notes: Reading the first letter of each paragraph of the Sermon Thirty-Six forms a hidden message: 'Foul Murder'. Additionally, if you take Sermon Twenty-Nine, associate each of the thirty-five listed numbers with a word in its respective sermon, another hidden message is revealed: He was not born a god. His destiny did not lead him to this crime. He chose this path of his own free will. He stole the godhood and murdered the Hortator. Vivec wrote this.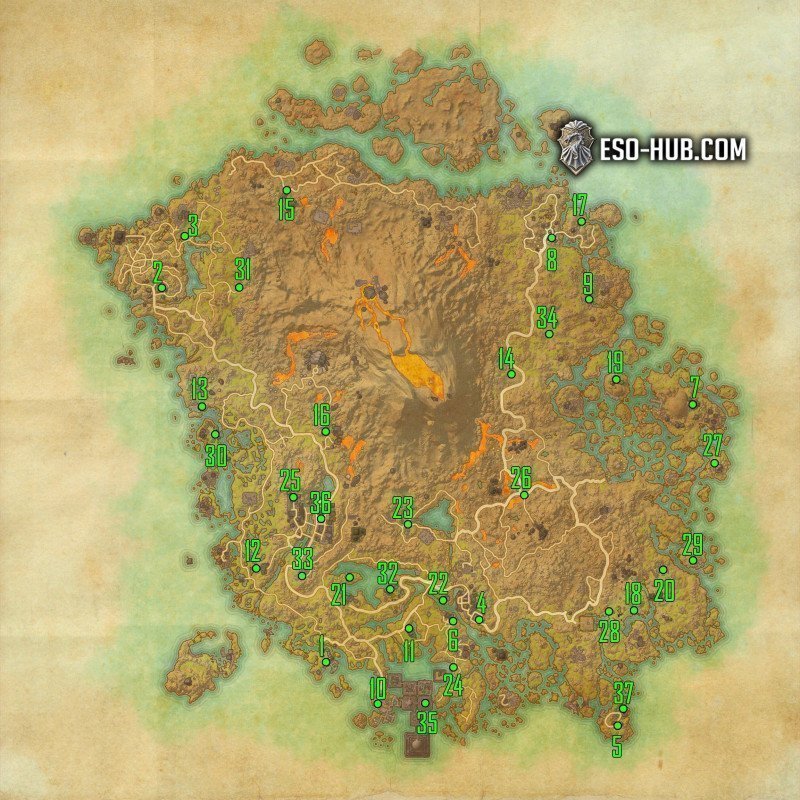 | Number | Place | Location | Notes |
| --- | --- | --- | --- |
| 1 | Seyda Neen | Inside Census and Excise Office | |
| 2 | Gnisis | Inside Gnisis Temple, 2nd floor | |
| 3 | Ashalmawia | South of Ashalmawia by the lake | |
| 4 | Suran | Atop a table on the ground floor of the Suran Temple | |
| 5 | Tel Branora | Dalen's House, lower level | Requires trespassing |
| 6 | Suran | In a building to the south of Ules Manor on a bench | |
| 7 | Sadrith Mora | Gateway Inn, 2nd floor | |
| 8 | Vos | Inside the Gathering House | |
| 9 | Pinsun, Hanud Tower | In a boat just outside Pinsun, southeast of Vos | |
| 10 | Vivec City | On a wooden platform northwest of Foundation's Embrace, next to Suvaris Othrenim | |
| 11 | Master Kharekh's Residence | On a boat outside | |
| 12 | Ahemmusa Camp | Southeast of the camp, underneath the manor | |
| 13 | Khartag Point | Outside by the camp | |
| 14 | Falensarano Ruins | | |
| 15 | Ald Carac | In the middle of Ald Carac, on a cart | |
| 16 | Ald'ruhn Camp | At a shrine in the northern end of the Redoran Garrison yard, up a hill | |
| 17 | Tel Mora | Athram's House | Requires trespassing |
| 18 | Molag Mar | East of the Molag Mar Wayshrine next to a boat | |
| 19 | Tel Aruhn | Inside Vedran's House in Tel Ahrun | Requires trespassing |
| 20 | Shashpilamat | Near the stairs and a corpse with a cart outside Shashpilamat | |
| 21 | Amaya Lake | Inside the Fishing Lodge, east of Vassir-Didanat Mine | |
| 22 | Ules Manor, Suran | Behind Ules Manor by the dock | |
| 23 | Marandus | Foyada Quarry, near the dock | |
| 24 | Ald Sotha | Southwest of Ald Sotha,directly to the left in-between rocks | |
| 25 | Balmora | Inside Balmora Tribunal Temple on the left side | |
| 26 | Nchuleftingth | Nchuleftingth Wayshrine | |
| 27 | Tel Galen | On top of the stairs just outside Tel Galen | |
| 28 | Molag Mar | Molag Mar Wayshrine | |
| 29 | Holamayan Monastery | On top of stairs leading to Holamayan Monastery, on a barrel | |
| 30 | Arenim Manor | Outside under an arched doorway by the docks | Requires trespassing |
| 31 | Salothan's Council | At a small shrine northeast of Salothan's Council | |
| 32 | Mistress Dren's Residence | Behind Mistress Dren's Residence, outside of Suran, overlooking the lake | |
| 33 | Vassir-Didanat Mine | Northwest corner of Vassir-Didanat Mine on a barrel near a flight of stairs | |
| 34 | Pulk | Just east of Pulk on a bench next to a metal arch | |
| 35 | Vivec City | Farmers and Laborers Hall on a table | |
| 36 | Balmora | Retheran's House, lower level at the very end, near Edras Retheran | Requires trespassing |
| 37 | Tel Branora Wayshrine | Inside Tel Branora in a cove | |
Here's the list of all the lorebooks that are counting towards the Tribunal Preacher Achievement:
The 36 Lessons: Sermon 1 - Book 1 of a series of words of wisdom relating to Vivec
The 36 Lessons: Sermon 2 - Book 2 of a series of words of wisdom relating to Vivec
The 36 Lessons: Sermon 3 - Book 3 of a series of words of wisdom relating to Vivec
The 36 Lessons: Sermon 4 - Book 4 of a series of words of wisdom relating to Vivec
The 36 Lessons: Sermon 5 - Book 5 of a series of words of wisdom relating to Vivec
The 36 Lessons: Sermon 6 - Book 6 of a series of words of wisdom relating to Vivec
The 36 Lessons: Sermon 7 - Book 7 of a series of words of wisdom relating to Vivec
The 36 Lessons: Sermon 8 - Book 8 of a series of words of wisdom relating to Vivec
The 36 Lessons: Sermon 9 - Book 9 of a series of words of wisdom relating to Vivec
The 36 Lessons: Sermon 10 - Book 10 of a series of words of wisdom relating to Vivec
The 36 Lessons: Sermon 11 - Book 11 of a series of words of wisdom relating to Vivec
The 36 Lessons: Sermon 12 - Book 12 of a series of words of wisdom relating to Vivec
The 36 Lessons: Sermon 13 - Book 13 of a series of words of wisdom relating to Vivec
The 36 Lessons: Sermon 14 - Book 14 of a series of words of wisdom relating to Vivec
The 36 Lessons: Sermon 15 - Book 15 of a series of words of wisdom relating to Vivec
The 36 Lessons: Sermon 16 - Book 16 of a series of words of wisdom relating to Vivec
The 36 Lessons: Sermon 17 - Book 17 of a series of words of wisdom relating to Vivec
The 36 Lessons: Sermon 18 - Book 18 of a series of words of wisdom relating to Vivec
The 36 Lessons: Sermon 19 - Book 19 of a series of words of wisdom relating to Vivec
The 36 Lessons: Sermon 20 - Book 20 of a series of words of wisdom relating to Vivec
The 36 Lessons: Sermon 21 - Book 21 of a series of words of wisdom relating to Vivec
The 36 Lessons: Sermon 22 - Book 22 of a series of words of wisdom relating to Vivec
The 36 Lessons: Sermon 23 - Book 23 of a series of words of wisdom relating to Vivec
The 36 Lessons: Sermon 24 - Book 24 of a series of words of wisdom relating to Vivec
The 36 Lessons: Sermon 25 - Book 25 of a series of words of wisdom relating to Vivec
The 36 Lessons: Sermon 26 - Book 26 of a series of words of wisdom relating to Vivec
The 36 Lessons: Sermon 27 - Book 27 of a series of words of wisdom relating to Vivec
The 36 Lessons: Sermon 28 - Book 28 of a series of words of wisdom relating to Vivec
The 36 Lessons: Sermon 29 - Book 29 of a series of words of wisdom relating to Vivec
The 36 Lessons: Sermon 30 - Book 30 of a series of words of wisdom relating to Vivec
The 36 Lessons: Sermon 31 - Book 31 of a series of words of wisdom relating to Vivec
The 36 Lessons: Sermon 32 - Book 32 of a series of words of wisdom relating to Vivec
The 36 Lessons: Sermon 33 - Book 33 of a series of words of wisdom relating to Vivec
The 36 Lessons: Sermon 34 - Book 34 of a series of words of wisdom relating to Vivec
The 36 Lessons: Sermon 35 - Book 35 of a series of words of wisdom relating to Vivec
The 36 Lessons: Sermon 36 - Book 36 of a series of words of wisdom relating to Vivec
The 36 Lessons: Sermon 37 - Book 37 of a series of words of wisdom relating to Vivec