Welcome to ESO-Hub. Great that you've found our website. We're dedicated to bringing you, and the ESO community the latest and most accurate ingame information all on one website. This website is far from just a static page, so lets see if we can get you acquainted with some of ESO-Hub's most interesting features. If you still have questions after reading this article, please join us on
our Discord server
.
The search bar
Lets start with ESO-Hub's most prominent feature: the search bar. You will always find the search bar at the top-right of the page (and at the top of the page for mobile users). This search bar does not work like the search bars you've seen on search engines, where you would have to press enter or click a search button in order to perform a search action. The ESO-Hub search bar reacts directly to your input. Once you start typing, the results will start showing right below the search bar. This search is can find many things for you, think of armor sets, skills, furniture or collectibles. For your convenience, the search results also include item quality colours and item icons. Simply start typing, click the result and off you go!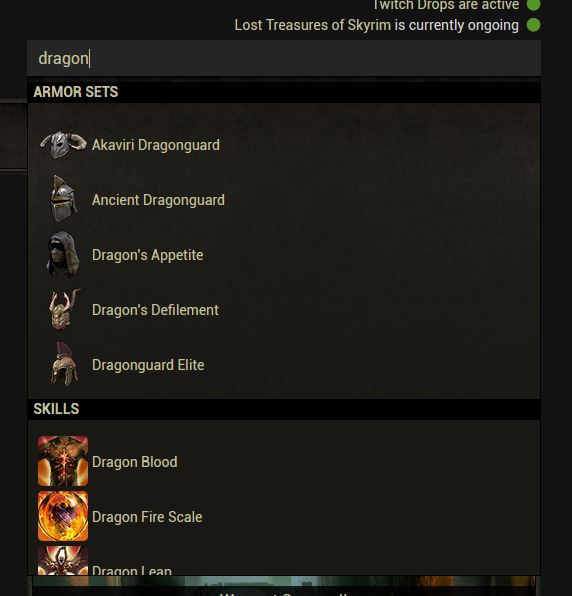 The mega-menu
The menu at the top is hiding a lot of awesome content for you. Both on desktop as well as on mobile, simply clicking one of the menu items should open them up, and reveal a whole lot of pages you can visit. Keep an eye on this menu, new things will be added frequently!

Besides the mega-menu, we also have a quick menu. The quick menu consists of a few pages we know people will visit frequently. The quick menu is located below the search bar and above the content. It is always there, on every page.



Tooltips
Isn't it annoying when you are reading a long guide, and it keeps referencing certain items or skills that you have to go look up in a separate tab? We know your pain and we have got you covered. All guides and long texts on ESO-Hub have tooltips! This means that hovering over an item or skill name (usually highlighted in yellow) will automatically open a small tooltip with key information to that particular item or skill. This works on mobile too! Instead of hovering, the first touch on mobile will open the tooltip, and the second touch will bring you to the detail page. Tapping away from the tooltip will make it disappear again.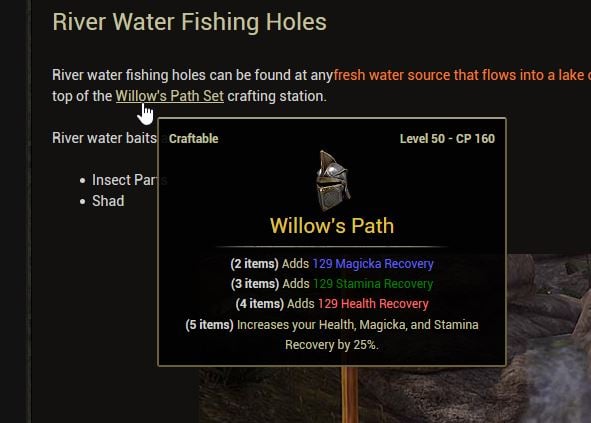 The language switcher
ESO-Hub is not only available in English. The website is also available in German and French. To switch languages, you can click the small flag in the top menu. You are then able to switch to the language of your liking. Switching languages will send you to the page you are already on, but in the new language you selected.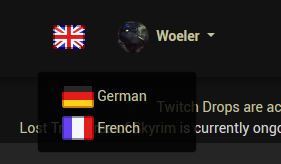 Account system and Patreon benefits
ESO-Hub has an account system. However, having an account is not necessary. All features on the website are available to users with or without an account. Having an account does have some small convenience benefits though. An example of this is that logged in users will have their username filled into the author field when uploading furniture images, and they are less likely to see captchas on forms.
Patrons (
people who pledge to ESO-Hub via patreon
) will be able to link their ESO-Hub account to their Patreon account. As long as you have an active pledge to ESO-Hub on Patreon, ads will be deactivated on the website. Patrons of ESO-Hub will also be able to turn off ads on
alcasthq.com
. Furthermore, patrons will be invited to a hidden Discord channel on the AlcastHQ discord, where we can discuss the latest features or just chat in general.
That's all for now folks. We hope you will enjoy ESO-Hub. We have many more features in the making, so stay tuned for more announcements!